Spider-Man is back in the MCU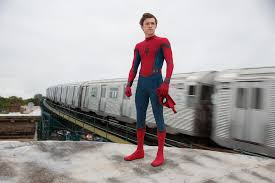 As some might know, this summer there was a big controversy concerning the future of Spider-Man in the Marvel Cinematic Universe (MCU) when Disney and Sony had an outbreak about the percentages of each company's earnings. This battle led to whether or not Spider-Man would even be a part of the MCU anymore. Many fans say that actor Tom Holland himself helped get Spidey back into the universe again along with Disney and Sony's new agreement.
When Disney CEO Bob Iger appeared on Jimmy Kimmel Live! on Thursday night, he confirmed that after weeks of a standoff, it was actually Holland that saved the Disney/Sony deal, allowing Spider-Man to remain in the MCU. Disney wanted the film to be financed on a 50/50 basis, but Sony argued to keep the arrangement under the current terms, which was that Marvel/Disney receives 5% of first dollar and all merchandising revenues. According to insiders, the new deal is that Marvel and Disney will retain roughly 25% of the profits. Disney will retain the merchandising rights and will put up roughly a quarter of the financing.
The new film is supposed to be released on July 16, 2021. Kevin Feige, president of Marvel Studios, says, "I am thrilled that Spidey's journey in the MCU will continue, and I and all of us at Marvel Studios are very excited that we get to keep working on it. Spider-Man is a powerful icon and hero whose story crosses all ages and audiences around the globe," Feige continues. "He also happens to be the only hero with the superpower to cross cinematic universes, so as Sony continues to develop their own Spidey-verse you never know what surprises the future might hold."
On October 12th, Tom Holland attended ACE Comic Con in Rosemont, Illinois, and served on a panel with fellow cast member Jake Gyllenhaal, who played Mysterio in Spider-Man Far From Home.  "A lot of fans have been congratulating you," one interviewer noted, "because they feel like it was you who [closed the deal]."
"I'm sure there is some contractual obliged thing where I can't say anything about anything so I'm just gonna keep my mouth shut," Holland replied, "but thank you, thank you."
Many fans were very upset about this situation, so they bashed Disney and Sony on social media. The fans started petitions and hashtags saying #savespiderman and #bringbackspidy. Disney and Sony came to the conclusion to listen to the fans and figure out a new agreement. The situation finally got resolved and the fans were happy again. Now here's a question to think about. How long do you think this agreement will last? Do you want it to last forever?