UVA Shooting: 3 Dead, 2 Injured.
Suspect in custody is accused of targeting football players.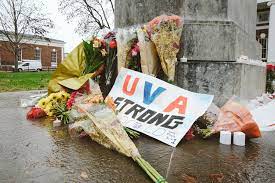 Christopher Darnell Jones Jr. was arrested Monday, and faces three charges of second-degree murder and three counts of using a handgun in the commission of a felony for opening fire on a bus full of UVA students coming back from seeing a play in Washington DC. He was not in the class and he sat separately from the class at the play. Jones may be charged with killing three UVA football players: Devin Chandler, Lavel Davis Jr., and D'Sean Perry, and injuring two unidentified students, one released from the hospital and one still in critical condition. 
Devin Chandler was a junior who played wide receiver and kick returner. D'Sean Perry was also a junior and played the linebacker position; he had played in fifteen games in the last three seasons. Davis Jr was recruited as a freshman and played as a receiver into his junior year.
Jones briefly played football in 2018. It was later found out Jones wasn't in the class that was going to the play,  but had been invited by a professor. After allegedly firing several shots, Jones is accused of walking down the aisle, getting off the bus, and then firing several more shots. The reason is still unknown why he may have opened fire on the bus. 
Commonwealth's Attorney Jim Hingeley, the prosecutor in the case against Jones, claims that Jones was targeting football players. He said, "The Virginia student accused of fatally shooting three football players and wounding two other students on campus seemed to be aiming at particular people — rather than firing randomly — and shot one of the players as he slept." At the time of that arrest, the suspect had two outstanding warrants in connection with a hit-and-run accident with property damage and reckless driving from Petersburg, Hingeley said. He was convicted of both charges and also given 12-month suspended sentences on both.
UVA excused classes until Wednesday two days after the event.