Taste Of Our Towns Returns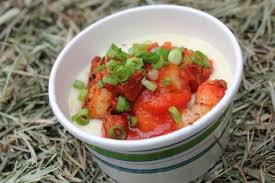 Taste Of Our Towns is an annual event in Lewisburg, West Virginia which allows residents and visitors to try new foods from local vendors and explore hometown entertainment. This annual food festival is a fundraiser for Carnegie Hall. This year the event was held Saturday, October 8, from 11 AM – 3 PM.
This year TOOT had a new addition: food trucks. Attendees could purchase tokens at the Greenbrier Valley Visitors Center or at the festival. Each food sample cost between 1 and 3 tokens, which were priced at a dollar apiece.
"We are so excited TOOT is back," said Leah Deitz-Jackson, Lewisburg resident. "This is my family's favorite festival in the Greenbrier Valley."
TOOT is Carnegie Hall's biggest fundraiser of the year. Money raised at the event goes toward programs for the arts at Carnegie Hall. Named after Andrew Carnegie, this local art center is one of only four original Carnegie Hall foundations left in the United States. The structure was built in 1902 with funds from Andrew Carnegie himself.
Carnegie Hall offers musical performances, art installations, educational workshops, and community events all year long. Many of Carnegie's offerings are free to the public. Carnegie Hall is a non-profit organization that relies on donations and fundraisers.
Event organizers could not host this event the last two years due to COVID, significantly impacting Carnegie's budget. Due to continuing COVID precautions, organizers were unsure whether they would have an event this year. "We wanted to bring TOOT back," Operations Manager Allan Sizemore said, "but not if it risked public safety."
TOOT organizers compromised by taking safety precautions based on health official recommendations. Precautions included requiring all food servers to wear masks, and providing hand sanitizer to the public.
Downtown streets are blocked off starting at 7 AM in preparation for TOOT. There are no vehicles allowed on Washington Street from Lee Street to Carnegie Hall on Church Street, so organizers always advise motorists to expect delays and detours on the special day.
Plan ahead, because TOOT 2023 will take place next October 14! Click on the link for more details, and be sure to comment on your 2022 TOOT experience.
https://www.carnegiehallwv.org/taste-of-our-towns