The Spider-Man Controversy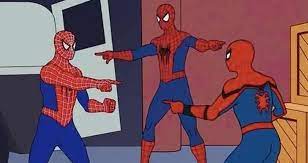 If you are familiar with the internet, you have seen the new Spider-Man man movie trailer or teasers from Spider-Man: No Way Home. The main Spider-Man in this movie is acted by Tom Holland. Holland also starred in the previous two films in this recent series, while Andrew Garfield was the Spiderman for both of the older The Amazing Spider-Man movies. So which actor makes the best Spider-Man? And how does Tobey MaGuire's Spider-Man from the early 2000s films fit in?
My opinion? Tobey Maguire has the best Spidey senses and spider features, Tom Holland is the best portrayal of Peter Parker, and Andrew Garfield is the best Spider-Man overall. Of course I've watched and enjoyed the Maguire movies, but what I really remember is watching the The Amazing Spider-Man multiple times and being obsessed with Andrew Garfield. Tom Holland's films are amazing, especially with the advanced graphics and more modern screening, but I am drawn to the more raw perspective of the Garfield films: Peter and Gwen's relationship and its sad ending make this series more realistic.
I share a passion for Spider-Man with freshman Isiah Bartenslager who said, "Andrew Garfield is the best Spider-Man because he has the best villains and the stories for them are cooler. He also has the hottest girlfriend."
Senior Alijah Nichols said that Tobey Maguire is his favorite Spider-Man because, "He's just the best, no one else."
Tom Holland is the best spider man because "He is overall the best actor and way cuter," said sophomore Amer Elgharbawy.
The last person I spoke with was Ryan White, a close friend who I could hold a Spider-Man discussion with for hours. I asked Ryan who she thinks is the best Spider-Man and why. "My favorite Spider-Man is Andrew Garfield," Ryan answered, "because he cares and wants to do whatever he can to save and help the people of his city and the world." She added, "He is also very attractive and has the best features for Spider-Man. He just overall fits the Spider-Man role the best."
Do you agree? In the comments section, tell us who your favorite Spider-Man is and why!