Opinion: The Story of Kyle Rittenhouse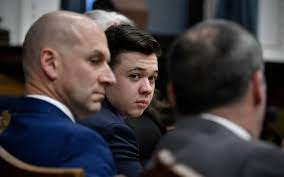 Who is Kyle Rittenhouse? Kyle Rittenhouse is an 18-year-old boy from Antioch, Illinois who fatally shot two people and injured another during a riot in Kenosha, Wisconsin on August 25, 2020 when he was still 17. Rittenhouse was prosecuted on several first-degree charges aggravated by use of a dangerous weapon. The charges included: Reckless homicide; recklessly endangering safety (2 counts); intentional homicide; and attempted intentional homicide. This November 19, following eight days of deliberation, a jury found Rittenhouse not guilty on all counts. Moments later, the Kenosha district attorney's office made a statement they were "disappointed in the verdict" but that they had to live with it, for that's what the jurors decided.
"Before the killings, Kenosha had endured two nights of chaotic protests over the police shooting of a local Black man, Jacob Blake," according to Reuters.com. "Several businesses were burned to the ground and there were incidents of looting. Police used rubber bullets and tear gas to control the crowds." During his trial, Rittenhouse testified that the reason he chose the semi-automatic, AR-15 style rifle he intended to use to help protect Kenosha businesses was because he thought it "looked cool." This is like Kylie Jenner saying she picked out a Birkin bag over a Chanel bag because it was prettier. I also believe that Rittenhouse, as a 17-year-old boy, should have chosen a gun that could do less damage.  
What did the leader of our country, Joe Biden, have to say about Rittenhouse? Reacting to the jury's verdict, Biden released a statement saying in part that, "While the verdict in Kenosha will leave many Americans feeling angry and concerned, myself included, we must acknowledge that the jury has spoken" [read the full statement here: https://www.whitehouse.gov/briefing-room/statements-releases/2021/11/19/statement-by-president-biden/]. Many people, however, are still rankled that in the past Biden has appeared to refer to Rittenhouse as a white supremacist. Biden "did not explicitly describe Rittenhouse as a white supremacist," according to the fact-checking website Snopes.com, during the presidential campaign in 2020; however, "Biden made remarks or promoted a campaign advertisement that strongly suggested Rittenhouse was a white supremacist,or closely associated with white supremacists and/or militia groups" [read the full analysis here: https://www.snopes.com/fact-check/kyle-rittenhouse-biden/].One such remark from Biden was in the form of a Tweet the day after one of the candidates' debates: "There's no other way to put it: the President of the United States [Trump] refused to disavow white supremacists on the debate stage last night." According to the Oxford Dictionary, a white supremacist is "a person who believes that white people constitute a superior race and should therefore dominate society, typically to the exclusion or detriment of other racial and ethnic groups, in particular black or Jewish people." After the jury acquitted Rittenhouse, he stated that he is actually a supporter of the Black Lives Matter movement and that Joe Biden had "defamed his character." Rittenhouse was disappointed and outraged by the mischaracterization and, according to Newsweek Magazine, "a number of conservative figures and attorneys have suggested he has a case" should he choose to sue Biden and others public figures who have spoken negatively of him such as LeBron James, Whoopie Goldberg, and Joy Behar. Behar accused Rittenhouse of "driving four hours with an AR-15" to Kenosha when Rittenhouse testified in court that he acquired the weapon at a friend's house once he arrived in Kenosha. CBS reporter Mark Strassman also falsely claimed Rittenhouse crossed state lines "armed for battle." MSNBC host Joe Scarborough claimed Rittenhouse "fired his weapon 60 times" when the evidence shows he fired his rifle a total of eight times. I believe Rittenhouse could sue all of these people for slander and false statements.
Do I believe that children should be carrying around guns? Not at all, unless they have a full and acceptable reason, such as hunting. Do I believe that Rittenhouse was in the wrong? I'm not sure about that question, because while I believe he shot in self-defense based on the facts and evidence brought forth in his trial, I also believe a 17-year-old boy should not have the authority to take two lives in his hands.
Sources:
Businessinsider.com
Newsweek.com
NPR.org
Reuters.com
Snopes.com
Washingtonexaminer.com
Whitehouse.gov