The Struggle to Balance Academics and Sports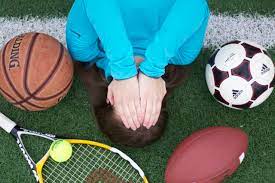 Most student athletes reap many benefits from playing sports: Among the most important is bonding with the built-in team family you can always count on. Daily practices and weekly meals together, as well as sharing triumphs and defeats, forge lifelong friendships. Yet student athletes also have so much pressure on their shoulders. From being to school on time after a long practice the night before, to maintaining the required grade point average (GPA), to wanting to perform well for their peers and coaches, student athletes experience high levels of stress. 
In the locker room with my fellow athletes, I witness the effects of heavy workloads and busy schedules. "I don't want to be here today," or " I can't be here–I have too much homework." Student athletes are exhausted, but they would "rather be exhausted doing something I love since I value sports over school." 
According to Peter Ward, LMHC,  95% of male and 85% of female athletes report higher stress compared to 52% of non-athlete students. Most of this stress comes from romantic relationships, wanting to do well, and living up to teacher academic expectations. Other stressors are higher responsibilities, decreased sleep, and more academic demand. 
I  interviewed some of my peers from East's women's soccer team, and they definitely experience these stressors. A majority of us are still stressed over the double overtime Oak Hill game we lost to penalty kicks.
"I still relive that moment and the mistakes in that game over and over," says forward Grace Boetner.
I personally catch myself going back to watch the film multiple times, then leaving with a pit in my stomach from the commentary and visuals.  
Due to GPA requirements, we student athletes are trained to perform well academically so we can continue playing. This well-structured system is in place to ensure that we balance sports and academics. But sometimes that balance is tough to maintain.