AJR Releases Their Highly Anticipated 4th Studio Album "OK ORCHESTRA"
"We're going extremely in [the Americana] direction, and extremely in the hard hip-hop direction, and extremely in the classical direction," middle brother and producer Ryan Metzger told Billboard in January. "It's more extreme than any album we've ever made before, sonically."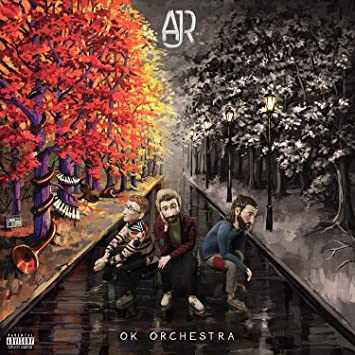 Hailing from New York City, brothers Adam, Jack, and Ryan Metzger–better known as indie-pop trio AJR–released their highly anticipated 4th studio album "OK ORCHESTRA" on March 26. The brothers have called it their "most extreme album yet," featuring songs such as their sleeper-hit "Bang!", as well as "Way Less Sad" and "Bummerland."
Coming after their platinum 2017 single "Weak" and their 2019 top 10 Billboard album "Neotheater," "OK ORCHESTRA" embraces and even celebrates our imperfections with songs like "Ordinaryish People," which is about being a nobody, and 'World's Smallest Violin," which gives the message that no problem is too small. 
"We're going extremely in [the Americana] direction, and extremely in the hard hip-hop direction, and extremely in the classical direction," middle brother and producer Ryan Metzger told Billboard in January. "It's more extreme than any album we've ever made before, sonically."
And extreme "OK ORCHESTRA" is. Sampling all thirteen tracks, the album kicks off with "OK Overture," the band's third career overture. 
"It's definitely the one we've worked the hardest on," AJR said on their official Twitter account after a fan asked if this was their best overture yet. 
The band's hard work doesn't go unnoticed. The music video for "OK Overture" is set to hit one million views in the coming days and has already surpassed one million streams on Spotify.
AJR knew exactly what they wanted to say in this album. This is especially dominant in the third track titled "3 O'Clock Things." With lyrics like "It's kinda funny how I paid for college / When YouTube was an option / But then I would've had to spend my best years / Skipping ads and reading comments," the song perfectly encapsulates the random, run-on thoughts you have at 3 in the morning. 
"3 O'Clock Things" is followed by the deep track "My Play." In this slower, more emotional tune, youngest brother and lead singer Jack Met yearns to be able to show his divorced parents the play he made. "I worked really really really really hard / Let me show you my play / And I don't wanna do it twice / 'Cause it's not the same." 
Because of the 2020 pandemic, AJR was forced to look inward to find inspiration for writing. One prime example of this is "Joe," a true AJR story of a school kid named Joe who seemed unreachable. Nothing they did was good enough for Joe, but they still strived for his validation. "Look at all this stuff I do / I've played shows in Belarus / Now Joe, do you think I'm cool?"
Another example of looking inward is the middle track "Adventure is Out There," which is the perfect song to add to your quarantine playlist. The lyrics "I could change my name / It won't do anything / Adventure is out there / So why am I in here today?" showcase the desire of getting out of the house to explore the world, but not feeling up to it.
"The Trick" catches you off guard with an unrecognizable quavering voice, but ultimately leaves you emotional after understanding the overall message. Sung from the perspective of a liar, a highly edited Jack Met sings "I went to France and danced in the rain / I told you all about it on our first date / My dad doesn't lie / So you can't meet my dad / 'Cause you fell in love with the me that went to France." 
Using Humpty Dumpty as a metaphor, this next track ["Humpty Dumpty"] explores putting on a fake smile for those around you. "When Humpty Dumpty went down / He said screw it / Imma smile right through it / And I'll scream when no one's around." 
When asked about "Humpty Dumpty," Ryan said that the song was about anxiety. "Do you cry in front of people? Or does that ruin the magic?" Ryan said. "It addresses even [Jack's] struggle with anxiety and the panic attack he had on stage. It was a very vulnerable moment." 
The album ends on a happily melodic but somber note with "Christmas in June." This song exhibits the battle of being a touring musician and also being in a relationship. "One big show will make them know my name / But if it ends up falling on our wedding day / Oh God, don't make me choose." 
Debuting at number 10 on the Billboard 200 chart, "OK ORCHESTRA" is AJR's most unique and vulnerable album by far. All of the tracks have deep and personal lyrics which are offset by an upbeat track, just in AJR fashion. With all tracks surpassing one million streams on Spotify in the first week, this is the brother's best album release to date. 
AJR recently announced a 2022 spring tour to promote the album. "OK ORCHESTRA" is out now on all streaming platforms.