Spartans, We Have a Problem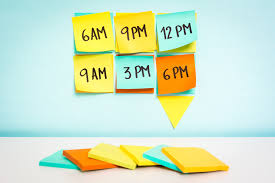 With the 2020 coronavirus pandemic, we have had to change the way we live everyday life. From wearing masks to social distancing, we as a nation have had to come together to remain sane and safe. One of the biggest challenges for students has been the switch to remote learning. When you're at home, you're not in a learning environment anymore. It's hard to get motivated, and  easy to get distracted and push off doing homework. One of the reasons this happens is because of our lack of time management skills.  
Time management is extremely important when doing homework, especially when you're doing it online. So, how do you manage time? There are many ways to go about this.
The first thing you need to do is get out of bed and go to a desk or a table. You will be so much more productive at a desk rather than lying  under a blanket. When you're at a desk or table, it gives you a sense of what it is like at school. Next, you need to write out what you have to do for the day/week either in your planner or on your phone. Writing your tasks out helps you visualize what you need to do. Every time you finish an assignment, mark it off of your list. This not only allows you to see what you have accomplished, but it also motivates you to get things done.
It is important that you limit your distractions. Set your phone aside and stay off of it. Make sure you are in a quiet environment that will allow you to complete your work. It is also important to be disciplined. If you tell yourself you're going to finish something, finish it.
In addition to being disciplined, you also need to take breaks. Do not do everything all at once. If you wait and do everything at one time, you will feel stressed. You will feel so much better if you take reasonable breaks between assignments. 
I asked another student for time managing tips. Junior Maddie Carver says, "I write out what I have to do for that day and then sit down and allow myself 2-3 hours to work. After that, I take a break to eat, workout, or do anything else. Then, I go back after an hour and finish everything. If I can't get it all done, then I schedule it in for the next day. Basically, I just make a schedule." 
Junior Sheridan Tolley says she also keeps a schedule. "I always work on assignments that are due sooner first. This helps me turn things in on time and get more things done."
On the other hand, junior Jake McGilvray says he isn't the best when it comes to time management, but his advice is to stay organized.
Taking these tips and applying them to your daily routine is vital to staying on top of your school work!