Australia Bushfires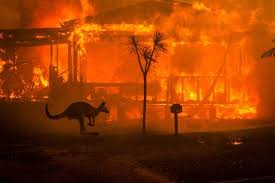 Hang on for a minute...we're trying to find some more stories you might like.
Heavy rain has finally helped firefighters contain the deadly bushfires raging in Australia for the past three months. Australia has always experienced bushfires. This wave, caused by record-breaking heat, drought, and strong winds, burned through more than 17 million acres of land and claimed the lives of at least 33 people. About 2,000 homes were destroyed. 
Are you an animal person? An estimated 1 billion animals, including kangaroos, koalas, and wallabies died in Australia's fires, and government officials dropped over 4,000 pounds of sweet potatoes and carrots to feed survivors.