High School Musical: The Musical: The Series Review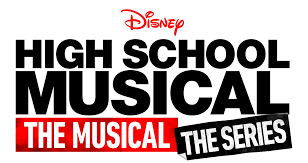 Caution: Spoilers ahead
High School Musical: The Musical: The Series (or HSMTMTS) is about high school students and their production of the Disney Original movie, High School Musical, with the help of their new drama teacher Miss Jenn. The students attend East High, which is where the original movie was filmed. The show focuses on Ricky Bowen, a talented junior who has commitment issues, Nini Salazar-Roberts, a junior who has a strong passion for theater, EJ Caswell, a senior who is now dating Nini and wants attention, and Gina Porter, the new sophomore who is out to get the lead in the play no matter what. 
The show starts off with Nini (Olivia Rodrigo) telling Ricky (Joshua Bassett) she loves him for the first time through a self written song, "I Think I Kinda You Know." After she showed him the song, Ricky was stunned and didn't have the courage to say it back. We later find out that Nini is now dating EJ Caswell (Matt Cornett) and they both plan on auditioning for the play as the leads, Troy and Gabriella. Ricky also auditions for Troy because he wants to show Nini he cares. After Nini gets cast as Gabriella and Ricky gets cast as Troy, EJ and Gina Porter (Sofia Wylie) plot to steal their roles. During the 10-episode season, love triangles form and drama ensues on and off the stage.
When the show was first announced on August 25th, many fans of the Disney Channel Original Movie (DCOM) were skeptical. High School Musical fans did not want Disney to turn the beloved movie into some cheap remake with a long title. Some people thought that they show would be a copy of the original movie, and others believed it would miserably fail because it could not live up to the standards of the High School Musical trilogy. But after the show's first episode premiered on November 12, it received good feedback and people really seemed to like it in spite of rottentomatoes.com's Critics Consensus: "Though fans may find what they've been looking for in its nostalgic stylings, High School Musical: The Musical: The Series follows a little too closely in its predecessors steps to truly be the start of something new." The rating were 79% on tomatometer and 81% on audience scores. Also, The Collider said, "It mostly exists in that sweet spot between pure empty nostalgia and something completely new, a series that hits you with those sense memories from a simpler time." 
While the show does do covers from the original, it also features some original songs of its own. Some of these songs are "I Think I Kinda You Know," "Wondering," "Out With The Old," and "Just For A Moment." One song titled "All I Want," which was written by cast member Olivia Rodigro, has made Billboard's Hot 100 list. Many people have compared the show to Glee and The Office because of its musical aspects and mockumentary style filming. 
Season 2 for HSMTMTS was confirmed in mid-October, which was a month before the show even premiered. The season one finale left many fans wondering what will happen next. During the finale episode titled Act Two, we see Nini and Ricky getting back together, Nini being offered a spot at her dream school, Gina returning because of EJ, and Ashlyn and Big Red's big moment during the credits. We also see Miss Jenn (Kate Reinders) tell her students, "Wait till you see what I picked for the spring musical!" 
When we first heard of the show, we were skeptical as well. We weren't sure what the storyline would be or how it would turn out. After watching it, we immediately grew attached to the storyline and the characters. For the next season, many predictions have been made. We think (and hope!) that Nini and Ricky will stay together, and that Nini will go to the drama school and realize that she made a mistake. We also think that Big Red and Ashlyn will become an official couple, since the credit scene showed Ashlyn giving him flowers. Gina had to move to Washington because of her mother mid-season, but she came back for the show on the last episode. We think that she will stay in Utah somehow, may that be she moves back or she stays with a friend. We also think that Gina and EJ may become a couple, since EJ was the one who bought the plane ticket for Gina. There have been some predictions that Miss Jenn might have some chemistry going on with the robotics teacher Mr. Mazzara (Mark St. Cyr) or Ricky's dad, Mike Bowen (Alex Quijano). 
If you have not watched High School Musical: The Musical: The Series, now's your chance! You can find this show on Disney+. Season 2 will be released in fall 2020.