Fortnite Accused of Being as Addictive as Cocaine
Do you think it is so addictive that it can become dangerous?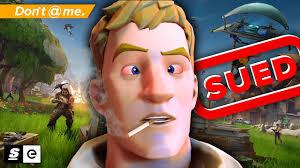 A Montreal-based law firm is preparing a class action suit on behalf of two parents who claim that the popular game Fortnite is as addictive as cocaine.  Apparently, whenever the game is played for a long period of time, dopamine is released in the brain making the game as addictive as drugs. Attorney Alessandra Esposito Chartrand states that when Epic Games created Fortnite the publisher hired psychologists to dig into the human brain to see what they could do to make the game as addictive as possible.  Basically, the attorney is trying to prove that Epic Games should be sued because they put Fortnite on the market knowing how addictive it was to their youth target. The lawsuit claims that the game did not warn the users of the addictive risks.  There was no report on the amount of damages sought in the lawsuit.
Is Fortnite really as addictive as a drug, though?  Do you think it is so addictive that it can become dangerous?
About the Writer
Jaelen Gordon, Staff Writer
You can find Jaelen hanging with her friends, or taking selfies for her Instagram or Snapchat.  Jaelen is normally walking around school with with a smile...