Dutch Haus: Munch or Miss?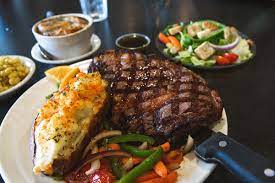 The Dutch Haus restaurant, like Carlito's, is another establishment that has been around the Lewisburg area for a long time. The Dutch Haus first opened at the Greenbrier Valley Airport in 2003, and many people enjoyed eating there before they took a flight or, alternatively, after they returned. The restaurant is now located at the Elks Club in Lewisburg. It offers a popular Sunday morning brunch, serves everything from trout to surf and turf on its dinner menu, and the bar features Greenbrier Brewing Company draft beers.
Diner reviews featured on the Dutch Haus website are positive. One person by the username Jason stated, "Great food in a beautiful setting! One of my favorite places to eat in the Lewisburg area."
"The decor was simple and light with a lovely view of the golf course," username RMB stated. "At 4:30 pm the place was empty so we had our pick of tables. The staff was super helpful and friendly, and the service was speedy. My wife and I each ordered the 12oz River with twice-baked potatoes. BEST RIBEYE EVER."
I have eaten at Dutch Haus multiple times, and based on my own experience I recommend the lobster tails. They are extremely delicious, especially with melted butter. There are many reasons to try out this fine establishment! This one is definitely a munch!