Thank You, Counselors!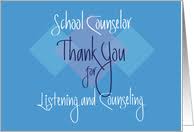 Whether it was for advice or for information, everyone here has seen a guidance counselor at least once. Our counselors are always there for us, but do you ever wonder if they get overstretched or what they do when the situation is too much? I talked to Mr. Mike Vincent and asked him these questions. Here are his responses:
Summer: Do you feel overwhelmed by the number of students you see a day or a week? 
Vincent: I'd be lying if I said I never did. In general, no, but there are days.
Summer: How do you know what to say? 
Vincent: I don't always know what to say, but I do know how to listen, and I think most of the time that's more important. I think lots of times we have the answers inside of ourselves and it just takes someone listening to us to figure that out. 
Summer: Are some problems too much for you? 
Vincent: Yes, I'm not a psychiatrist. I can't prescribe medication. Sometimes, I have to refer students to professionals.
Summer: Did you always want to be a counselor?
Vincent: I didn't have a clue what I wanted to be. I studied psychology in college because I really liked it, not because I knew what I wanted to do with it. I worked several different jobs in the health field before I became a school counselor: two different mental health hospitals with adolescents, a drug treatment center, two different group homes for kids, and a group home for adults. I think all those experiences make me a better counselor because I've seen all the different ends of the mental health world.
Summer: How do you unwind at the end of the day?
Vincent: Hanging out with my kids, playing LEGOs or Minecraft.
Summer: What led you to want to be a counselor?
Vincent: To listen to and respect students. Some students have nobody that listens to and respects them, and if I can be that one person, I feel I'm doing some good.
Summer: What is the difference between a school counselor and a therapist?
Vincent: School counselors don't provide ongoing weekly therapy; school counselors have duties such as scheduling, testing, so on and so forth.
Summer: You've dealt with all grade levels. Do the students' problems grow as they do?
Vincent: Students change a lot from grade nine to grade twelve. The way students see the world changes so much, so their problems change. Seniors are trying to make life decisions. Ninth graders' decisions aren't as big, but just as important.
Spartans, as you can see, our counselors do a lot for us, so say thanks whenever you see any of them.